Richard Henry & Daniel Blackham Bates - Brickyard Foremen
Richard Henry (1878-1921) and Daniel Blackham Bates (1854-1937) were two brothers who came to Nuneaton in high regard. They were needed to help turn around the fortunes of the business. Their father John and new wife Lucy (both were widowed) along with two other bothers and two sisters lived in Hazlehead, Yorkshire for most of there infancy. John had his own brickmaking business J.C.Bates & Son's. Richard who later went by the name Harry Bates and youngest brother Daniel both worked for their father and gained a reputation for high standards in their brickmaking, especially glazed brick works.
In 1901 Reginald Stanley was eager to get the pair involved with Stanley Brothers. He approached the family and offered them contracts to join the company as the Brickwork's Foremen. John was now in his late 70's and was winding down so the chance for them to join a prestigous company like Stanley Brothers surely couldn't be turned down.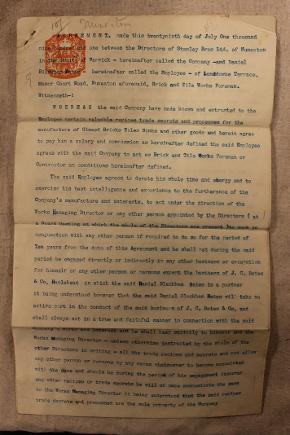 The contract of Daniel Blackham Bates to join Stanley Brothers in 1901. Thanks to Warwickshire County Records Office and the Nuneaton Civic Society for rescuing the records from Stanley Bros.
The company secretary William Westwood drew up the contract (see part of Daniel B Bates contract left). It was four pages long, some of the agreements were as follows :
The contract length will be TEN year from the date on the agreement.
The employee agrees to devote his whole time and energy and to exercise his best intelligence and experience to the furtherance of the Company's manufacture and interests.
The said employee shall use every precaution to prevent workmen or visitors from finding out anything relating to the glazed recipes and trade secrets.
The employees cant engage in the same business either for himself or another business within fifty miles for the next ten years after the contract has ended.
The Company will pay the employees a yearly salary in monthly installments of one hundred and four pounds (£104) to be increased thirteen pounds per annum for five years and also a commission of four pence per thousand on all Best Glazed Bricks and Malt Kiln Tiles dispatched from the Nuneaton Works also a commission of one eight of a penny for best sink that are dispatched.
A minimum wage of £156 was guaranteed to the pair, which isn't a bad little number, considering they still had J.C Bates & Co back in Yorkshire. Reginald also sorted them out with homes on Manor Court Road, Daniel and Harry were both in the exclusive Lansdowne Terrace row over the road from Manor Court.
About six years into their deals they raising a question to the board of directors about the commission payments, which the board decided that they would increase their commission on bricks to six pence and a quarter of a penny on best sinks.
Daniel, after his contract, ended up in Whitehaven on the north west coast. While Harry decided to make Nuneaton his home, living on the other side of town in a house called 'Locksbrook' on the Leicester Road where he passed away on 29th November 1921, aged just 43.
If anyone knows if his family are still in the Nuneaton, I would love to hear from them, a photo's of the family would be great. He had two daughters, Marian who married a Richard Perkins in the 1930's and Constance who married a Walter L Evans around 1928.
There is more to follow on the recipe secrecy as I move into the brickyards more......