The Hanging of George Ives
On arrival in Fort Benton everyone was suffering from a bad attack of gold fever. Discoveries of gold in Alder Gulch had mean't it was going to be tough to find a piece of ground with good pay, the whole gulch had been turned upside down. In 1863 Stanley set up a camp on the edge of Virginia City with a friend. It was a bustling place, many had come on the hunt for gold, others wanted to set up business in this rapidly expanding area of Montana. The only problem with the increase in population is you find some very unsavoury characters and the camp with no real law and order in place had its fair share.
The unlawful gangs where known as 'Road Agents' (Highwaymen) and in Virginia City there was one man called George Ives, who was a prominent figure within these unwanted groups.
I take up this story from Reginald Stanley's own letters to the Montana Pioneers Society and also information I have researched on the vigilante movement in Montana. Stanley revealed the event that he saw with his own eyes and how it would change the camp forever.
Ives wasn't shy in hiding the fact he was the leader of the Road Agents in the camp. He would career up and down the main road on his famous white horse, threatening and daring any bystanders who caught his eye.
One day while standing beside a store in the camp, Ives rode up and seized a pair of 'buckskin' gloves hanging up outside and remarked that he wanted them. The storekeeper objected to him taking them and asked for payment. Ives without a thought whipped out his revolver and laid it across his shoulder ready to 'drop' him. The shopkeeper saved himself from a bullet by retreating back inside the store quickly. Ives lowered his gun and cantered off with the gloves and shouted back 'I'll meet you on the road someday'. Stanley saw how ruthless this man could be and that he had gained authority through fear. You wouldn't want to look in his direction for fear he might shoot you down for no reason other than he could.
The Road Agents had a network of men who covered all area's of the camp. Saloons were a good source of information, they would find out when gold was being moved out of the camp and strike. On their return without a care they would celebrate the event in the saloon's and the money would be gambled and thrown about.
Eventually this unruly behaviour became unbearable. Some of mining people who were trying hard to earn an living, decided it was time to do something about it and set up a secret vigilante group. Stanley knew nothing of what was unfolding but soon enough it was to explode and things were to turn ugly.
In the winter of 1863 around the 18th December. The body of a partially decomposed man was found dead close to Stinking Water River. He had been shot in the head, dragged into the field and left to die. William Palmer who had discovered the frozen body while out hunting, went to a nearby wickiup (man made hut/shelter) and sought assistance. The two men inside were not willing to help, they went by the names of 'Long John' Franck and George Hilderman. So by himself he loaded the body onto his cart and headed back to Nevada City. The body was identified as a popular young orphaned Dutchman by the name of Nicholas Tiebolt. It turns out that Tiebolt was on an errand to collect some mules for a William Clark, the young man had about his person an amount of gold dust to pay for the livestock which had been stolen during the attack. Palmer told the townsfolk what had happened at the wickiup and it was decided a band of determined men would ride out and find the two unhelpful men and bring back the possible attackers. Francks was found and interrogated by the posse and it didn't take long to find out the truth. A man by the name of George Ives had chased down Tiebolt, took his gold and then shot him. Ives was found hiding in a hut close by, he was arrested and brought back to Nevada City for trial.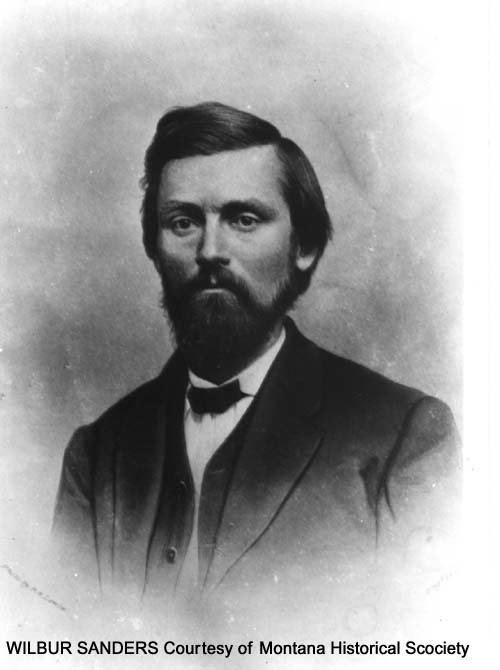 By the time Reginald had caught wind of the trial it had already started. He arrived to see a wagon stood broadside to the roadway of the camp, in it sat the prisoners and their guards. Around the perimeter about fifty armed men kept order. Mr Wilbur F Sanders (left) one of the now called Vigilantes stood next to the wagon as prosecuting attorney. Stanley admired this man and was in ore of his bravery to stand up and fight for the good people. Sanders was a lawyer by trade and had come to the area because of his interest in mining and stock raising, but found himself setting out law and order in the years to come.
The trial began late on Saturday, December 19th and was never going to be an easy one, the outlaws of the camp comfortably cancelled out the good people. Throughout the trial heated debates raged and the crowd had swelled to 1,500 people, using any vantage point to watch the going's on. Franck testified that George Ives had spotted the amount of gold Tiebolt had when he came to buy the mules. So once he had left Ives got on his horse followed after him and came back a short while later with the gold and the mules. Ives had told the Dutchman that he was going to kill him, Tiebolt asked for time to pray, as he knelt down and start to pray, Ives shot him in the head.
Monday December 21st finally saw the trial come to an end. The jury that had been selected went away to a cabin and deliberated for less than an hour and came back with the verdict of guilty by 23 to 1.
Sanders stood up in front of the massive crowd and put to them 'what should the sentence be?' He knew that he needed to get this part over very quickly before word got out to Ives men. There was a short silence then out of the crowd came a shout of 'hang him' others joined in and to a chorus of 'hang him, hang him, hang him....'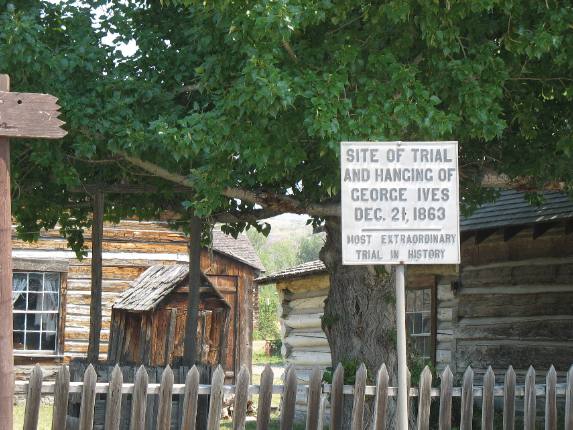 One of the guards grab a rope and hung it over a beam between two cabins and placed a dry good box below for the guilty to stand on. Ives was asked if he had any last words, he replied with 'Tell my mother, I died an innocent man'. No sooner had he finished his last word the box was kicked from under him and he swung between heaven and earth, in full view of the crowd.
The hanging of George Ives was a blow to the road agents and kick started what was to be an important part of history. Montana Vigilantes were here and taking back the streets for the good people of Montana.