Daniel Jackson Miller, better known as DJ was one of the four lucky men to hit gold in Helena, or as it was known then, "Last Chance Gulch". I know little of this man and I hope to investigate further, but felt it right to start a page on him with what I have gathered so far. I hope you enjoy this page and should you have anything to add please do contact me by email on fortyeightgreen@sky.com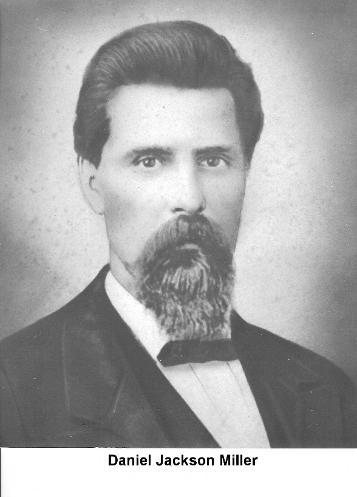 Photo and Story with thanks to FindAGrave.com and Iris Ayres Smale.
DJ was born in 1831 his parents were Micajah and MaryJane and they lived in Albertville a relativity new town in Alabama.
1
The story of how DJ managed to end up in Montana is a compelling one and his journey was in the name of love and money. He wished to marry a young lady by the name of Mary Ann Henry in his home town. Her father, a wealthy local man refused to accept his offer of marriage, unless he could give his daughter a safe and secure future. So with vigor, DJ set off for California, he had heard of the gold strikes and the chance of earning some serious money. Unfortunately by the time he arrived the place was swarming with prospectors and like many the chance of a decent pay was very thin. Not downhearted and still with the thought of marriage in his sights, he set off for Montana. As they say the rest is history.

He did eventually make his way home to Albertville and with a vast amount of money. You can probably guess he asked Mary Ann Henry to marry him, with the permission of her father. It has been mentioned that they moved to Waco, Texas and had three children Albert, Sara and Margaret.2 He invested his money in farmland and settled into life with his family.3
Sadly his wife passed away in 1895 and DJ eventually returned to Alabama after travelling around America for a while.
Luckily I have managed to find a copy of a letter from Reginald to Daniel. It goes into great detail about how they both are feeling at the time, Reginald must be replying to a letter sent by his friend. I'll transcribe the letter and post it on here very soon. The letter is dated March 30th 1882 and is addressed as Attleborough, Nuneaton.4 Reginald moved to Church Road before he built his house in Manor Court Road.
1. Taken from FindAGrave.com
2. Ibid
3. Ibid
4. Letters held by the Montana Historical Society. Ref No SC781